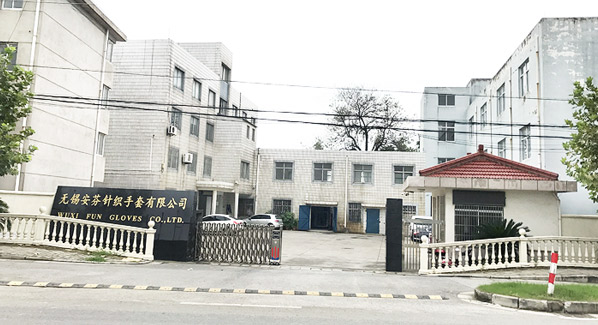 WUXI FUN GLOVES CO LTD is located in Wuxi, Jiangsu, China. We produce various gloves for overseas market. Our factory covers 8,000 square meters and has 300 workers.

Main products:
1. Sports Gloves for Running, Skiing, Snowboarding, Hunting, Golf etc.
2. Glove Liners made of Merino, silk, Thermal fabric, Wool.
3. Dress Gloves include: Cotton gloves, Nylon gloves, Velvet Gloves, Woolen Gloves, Angora Gloves, Fishnet Gloves, Fleece Glove/ Scarf/Caps. PU leather gloves. Printed or embroidery gloves.
4. Wedding and Formal Gloves include: Bridal Gloves,Evening Gloves, Prom Gloves, Satin Gloves, Matte Satin Gloves, Lace Gloves.
5. General Hand Protection (PPE) Gloves made of Cotton interlock, Stretch Nylon or Polyester, Microfiber.
6. ESD Clean Room Gloves include Antistatic Gloves, Dotted Antistatic Gloves, Nylon Lint Free Gloves, PU Coated Gloves, Polyester Conductive Gloves, Nylon Static Dissipative Gloves.
7. Medical Therapy Gloves: Anti-Arthritis Gloves, Compression Gloves, Skin Care Gloves. UV Protective Gloves.

Member of Best China Manufacturer of 2008.18 years experience, 300 skilled sewing workers and strong sales team. Good cooperation with importer, exporter, dealer, wholesaler and suppliers. Export to USA, Canada, Germany, UK, Greece, Italy, Sweden, Spain and Asia include Hong Kong, Tai Wan, Korea Etc.Our goal is to provide you with the largest selection of high quality products at lowest possible price.

Not all of our products are shown on-line. Custom-made are welcome.
| | |
| --- | --- |
| | |
| Workshop | Tailorin |
| | |
| | |
| Warehouse | Exhibition |